Time For More Vitamin D!
Ultraviolet B energy provided by the sun's rays is used by the skin to start making vitamin D. Vitamin D is essential for strong bones and teeth. Without this "sunshine vitamin," the body can't absorb the calcium it ingests, so it uses calcium from bones, increasing the risk of osteoporosis and fractures.
Vitamin D3 is the optimal form of Vitamin D
At Wonder Laboratories, your health and vitality is our business, and we're dedicated to keeping you healthy and happy! Wonder Laboratories has been on the Internet since 1997 as a company and in the Health and Nutrition field since 1962.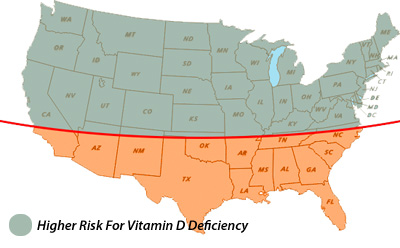 Vitamin D Is Essential for bone maintenance throughout life. Strong bones need Vitamin D. One way it is obtained is when our skin is exposed to sunlight, that's why it is called the "Sunshine Vitamin". It is also obtained when added to foods or through supplements. However, Vitamin D is not abundant in food. The use of sunscreen for skin health is imperative but sunscreen that has a sun protection factor 8 (SPF 8) or higher blocks 95% of the UVB light needed to synthesize Vitamin D which makes Vitamin D supplementation even more necessary to ensure that your body receives an adequate supply. Supplementing with Wonder Labs Vitamin D3 is an easy and convenient way to increase your daily Vitamin D intake.
Vitamin D Deficiency Is Widespread and insufficiency may be quite common in places far from the equator and researchers estimate that 50% of Americans may have less vitamin D than they need. Researchers also know that races with dark skin have the highest risk. People with very fair skin need 5-10 minutes of sun exposure three times a week during the summer where as people with dark skin need 5 times more sunlight to produce the same amount of Vitamin D.
Vitamin D Is Even More Important to good health than previously thought. Vitamin D helps maintain the calcium and phosphorus ratio in the blood. Vitamin D helps maintain healthy bones in adults and is essential to Calcium absorption. Well known for its positive role in bone health, Vitamin D is now receiving praise for supporting healthy immunity. Emerging research suggests it also helps support breast, cardiovascular, colon, and pancreatic health.
Acquire the "Sunshine Vitamin" Naturally with Wonder Labs Vitamin D-3 tablets. Our tablets are easily digested and assimilated. Vitamin D-3 (cholecalciferol) is the optimal form of Vitamin D. It is the form of Vitamin D that the body manufactures when exposed to sunlight, and the form most efficient for the body's needs. Wonder Labs all natural Vitamin D-3 tablets are Gluten Free, Wheat Free, Egg Free, Dairy Free, Sugar Free and Contains No Aritficial Colors, Flavors or Fragrances.
People At Highest Risk of Vitamin D Deficiency:
Seniors
People with dark skin
People with certain conditions, such as liver diseases, cystic fibrosis and Crohn's disease
People who are obese or have had gastric bypass surgery